– With 92% of S&P 500 Index companies having reported, earnings growth is tracking to a 28.1% year-over- year increase, the highest since Q4 2010 and 6.5 percentage points above September 30, 2018, expectations.
– Despite tariffs, S&P 500 earnings estimates for the next 12 months have been reduced only by 1.1% since October 1, less than the average earnings season decline.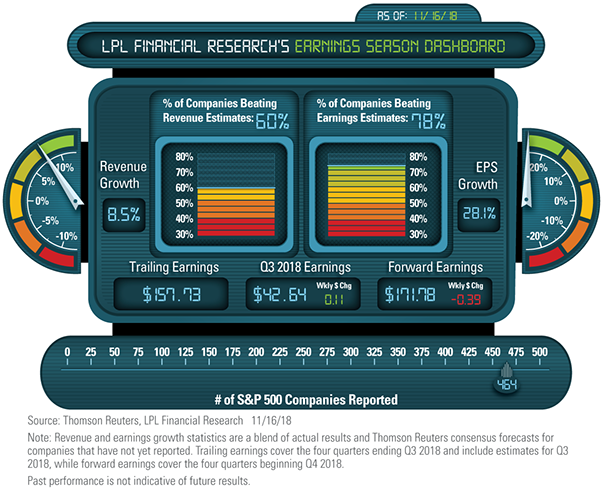 Important Disclosures:
Note: Revenue and earnings growth statistics are a blend of actual results and Thomson Reuters consensus forecasts for companies that have not yet reported. Trailing earnings cover the four quarters ending Q3 2018 and include estimates for Q3 2018, while forward earnings cover the four quarters beginning Q4 2018.
Any revenue forecasts presented are based on Thomson Reuters consensus. Any earnings forecasts are based on Thomson Reuters consensus, plus the long-term historical average for upside to estimates of 3%.
Past performance is not indicative of future results.
The economic forecasts set forth may not develop as predicted.
All indexes are unmanaged and cannot be invested into directly.
The S&P 500 Index is a capitalization-weighted index of 500 stocks designed to measure performance of the broad domestic economy through changes in the aggregate market value of 500 stocks representing all major industries.
Earnings per share (EPS) is the portion of a company's profit allocated to each outstanding share of common stock. EPS serves as an indicator of a company's profitability. Earnings per share is generally considered to be the single
most important variable in determining a share's price. It is also a major component used to calculate the price-to-earnings valuation ratio.
Because of their narrow focus, specialty sector investing, such as healthcare, financials, or energy, will be subject to greater volatility than investing more broadly across many sectors and companies.
Tracking #1-732285 (Exp. 01/19)